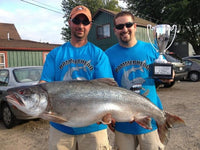 34lb 6oz Lake Trout
2012 Fall LOC 1st place lake trout, 2012 Orleans County Rotary Derby Grand Prize 34lb. 6oz. Lake Trout caught on a Gambler Rig!  
Team Escapes derby winnings using Gambler Rigs!
Gambler Rigs continue to put money lake trout in coolers across the Great Lakes and Finger Lakes!  Here is a list of derby placings from my boat all caught on Gambler Rigs!
2005 Fall LOC 1st place lake trout
2005 Fall LOC 11th place lake trout
2009 Summer LOC 8th place lake trout
2009 Summer LOC 9th place lake trout
2009 Orleans County Rotary Derby 2nd place lake trout
2010 Fall LOC 9th place lake trout
2010 Fall LOC 20th place lake trout
2011 Summer LOC 20th place lake trout
2011 Orleans County Rotary Derby 3rd place lake trout
2011 Orleans County Rotary Derby 4th place lake trout
2012 Spring LOC 17th place lake trout
2012 Summer LOC 8th place lake trout
2012 Summer LOC 12th place lake trout
2012 Summer LOC 16th place lake trout
2012 Orleans County Rotary Derby GRAND PRIZE lake trout
2012 Orleans County Rotary Derby 1st place lake trout
2012 Orleans County Rotary Derby 2nd place lake trout
2012 Fall LOC 1st place lake trout
2012 Fall LOC 16th place lake trout
2014 Summer LOC 11th place lake trout
2014 Summer LOC 18th place lake trout
2014 Summer LOC 20th place lake trout
2014 Sandy Creek Shootout 3rd place 58.6 lbs of lake trout
2015 Summer LOC 1st place lake trout
2015 Summer LOC 14th place lake trout
2015 Summer LOC 16th lake trout
2016 Summer LOC 18th place lake trout
2016 Orleans County Rotary Derby 4th place lake trout
2017 Summer LOC 5th place lake trout
2017 Orleans County Rotary Derby 1st place lake trout
2017 Orleans County Rotary Derby 3rd place lake trout
2018 Summer LOC 7th place lake trout
2018 Summer LOC 8th place lake trout
2018 Orleans County Rotary Derby 1st place lake trout
2018 Orleans County Rotary Derby 3rd place lake trout
2019 Orleans County Rotary Derby 1st place lake trout
2019 Orleans County Rotary Derby 2nd place lake trout
2019 Orleans County Rotary Derby 4th place lake trout
2019 Orleans County Rotary Derby 5th place lake trout
2020 Summer LOC 10th place lake trout